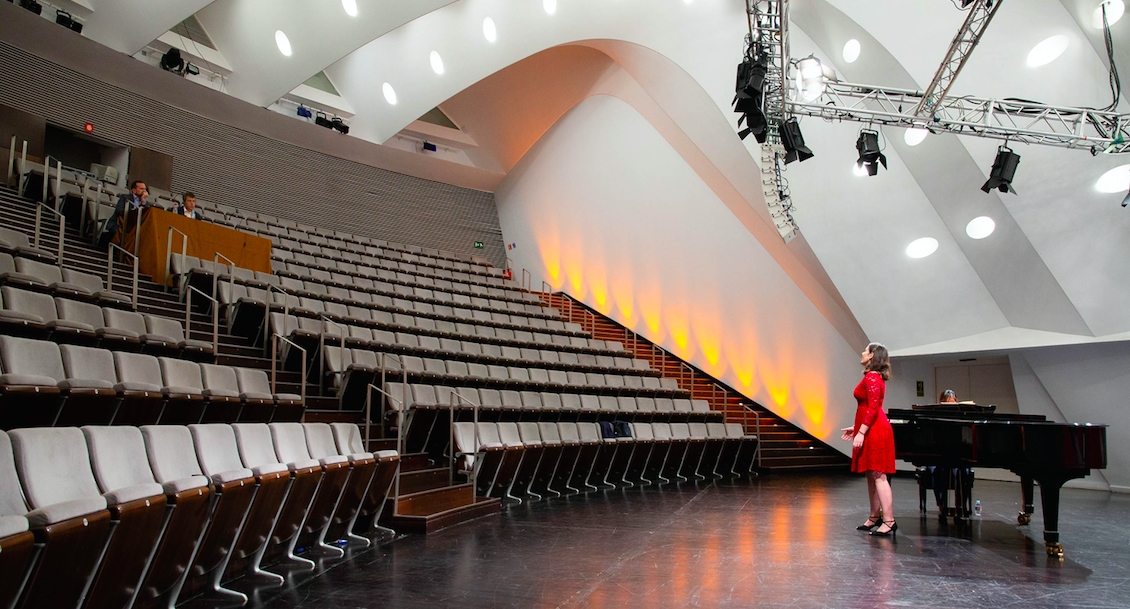 We at Ópera de Tenerife would like to express our gratitude for the trust you have placed in our project, evidenced by your invaluable patience while we resolved the cancellation of the Opera (e)Studio 2020 auditions for the production Il matrimonio segreto, initially scheduled for May.
Due to the recent new mobility restrictions issued by the governments of many countries in response to the health emergency caused by the COVID-19 pandemic, the auditions will be conducted through video evaluations.
The deadline for registration is extended to 15th November 2020 at 18:00. Please see the updated rules below.
If you are unable or unwilling to perform under the new conditions and have already paid the registration fee, please send an email to This email address is being protected from spambots. You need JavaScript enabled to view it. requesting a refund, which will be returned as soon as possible.
All persons already registered will receive the information individually by e-mail.
Should you require further information, please contact us at This email address is being protected from spambots. You need JavaScript enabled to view it.
We look forward to seeing you at Opera de Tenerife, and thank you for your understanding and support in this complex and difficult situation.
---
Da Ópera de Tenerife vogliamo esprimere la nostra gratitudine per la grande fiducia che hanno riposto nel nostro progetto, testimoniata dalla vostra inestimabile pazienza dopo l'annullamento delle audizioni di Opera (e)Studio 2020 per la produzione Il matrimonio segreto, inizialmente previste per il mese di maggio.
A causa delle recenti nuove restrizioni alla mobilità emanate dai governi di molti Paesi per far fronte all'emergenza sanitaria causata dalla pandemia di COVID-19 , le audizioni saranno condotte attraverso la valutazione di video.
Il termine ultimo per l'iscrizione è il 15 novembre 2020 alle 18:00. Si prega di consultare il bando aggiornato qui sotto.
Nel caso in cui non si possa o non si voglia partecipare alle audizioni nelle nuove condizioni e si sia già pagata la quota di iscrizione, si prega di inviare una mail a This email address is being protected from spambots. You need JavaScript enabled to view it. chiedendo un rimborso, che verrà restituito il prima possibile.
Tutte le persone registrate finora riceveranno le informazioni via e-mail singolarmente.
Se avete domande o avete bisogno di ulteriori informazioni, contattateci all'indirizzo This email address is being protected from spambots. You need JavaScript enabled to view it.
Vi aspettiamo a Ópera de Tenerife e vi ringraziamo per la vostra comprensione e il vostro sostegno in questa complessa e difficile situazione.
.
Who is eligible?
The Tenerife Opera(e)Studio is open to singers of all nationalities born on or after 1 January 1988.
Participants selected for past editions of the Opera(e)Studio are not eligible to audition again.
How to participate
Candidates must fill the Registration form which can be found in the Registration section of our website (www.operaestudio.eu/en) and send it (in editable .doc, .docx or .rtf format, All other formats (pdf, jpg, pages or doc with pasted photos...) will not be accepted.) via e-mail to This email address is being protected from spambots. You need JavaScript enabled to view it. before November 15, 2020 at 18:00h indicating the following in the subject: "Name and surname of the candidate – Role(s)" (e.g. "Mary Smith – Carolina/Elisetta"). In the same e-mail the following documents are to be attached:
Scan of identity card or passport.
A recent photo in .jpg format
Artistic and academic biography (1 document of 1 or 2 pages, in .doc, .docx or .rtf format)
Scan of the receipt of the payment** of 80 euros to "Opera (e)Studio de Ópera de Tenerife".
Payment of the registration fee (80€) will be made via bank transfer once the registration is confirmed and we have sent you the instructions by email.
If you have any doubts, please contact us at This email address is being protected from spambots. You need JavaScript enabled to view it..
We recommend you add This email address is being protected from spambots. You need JavaScript enabled to view it. and This email address is being protected from spambots. You need JavaScript enabled to view it. to your contacts and check your Junk mail box (spam) to ensure that you receive all the information from Opera (e)Studio and do not miss the opportunity to audition.
Update Regulations (EN) Regolamento aggiornato (IT) Bases actualizadas (SP)

Auditions
All applicants must submit the following videos befor December 15th:
Excerpts from Il matrimonio segreto. Recent video recordings (recorded after December 1, 2019) of the arias and excerpts corresponding to the role chosen in the opera Il matrimonio segreto by Domenico Cimarosa. The reference edition of the score will be Ricordi (critical edition by Franco Donatoni).
1 Free choice aria. Recent video recording (recorded after December 1, 2019) of 1 aria preceded by a recitative (secco or accompagnato), extracted from another comic opera (dramma giocoso, commedia per musica, etc.) or intermezzo or farsa in Italian by Pergolesi, Galuppi, Jommelli, Traetta, Piccinni, Gassmann, Anfossi, Sarti, Paisiello, Cimarosa, Haydn, Salieri, Mozart, Gazzaniga, Mosca, Fioravanti, Generali, Rossini or Donizetti (or another author from the same period).