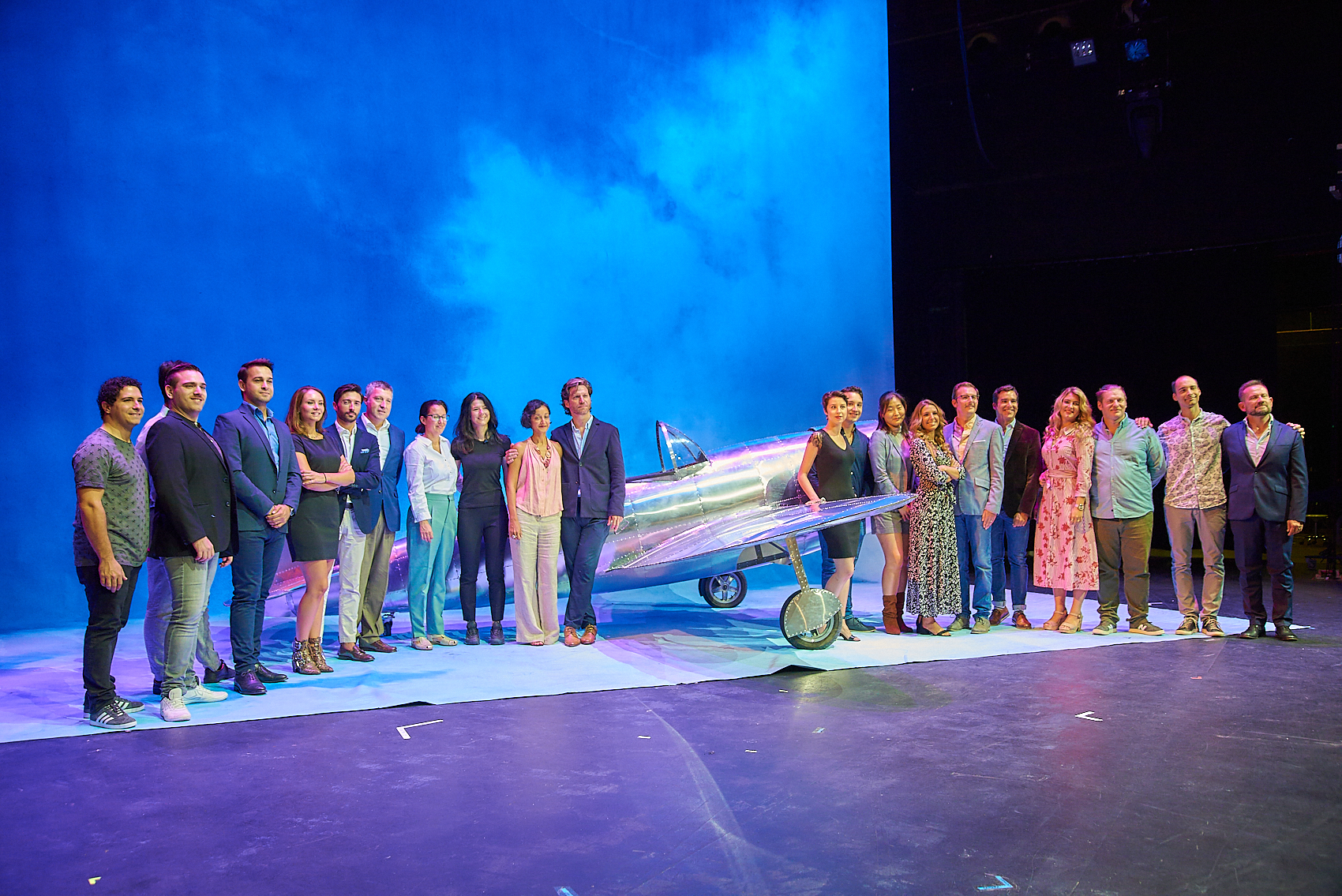 The Cabildo de Tenerife presents the opera L'elisir d'amore, by Donizetti, to be performed at Sala Sinfónica of Auditorio de Tenerife from 24 to 27 October. It is a coproduction between Ópera de Tenerife, Teatro Comunale di Bologna and Tbilisi Opera and Ballet State Theatre, and this year it is funded by the European Commission programme Creative Europe. The cast on stage are the members of the seventh Opera (e)Studio, the high specialisation academy.
The details of the production were revealed today, Wednesday the 16th at Auditorio de Tenerife by the Councillor for Culture of the Cabildo, Concepción Rivero; the artistic director of the Auditorio, José Luis Rivero; Opera (e)Studio's artistic director, Giulio Zappa; the musical director, Antonio Méndez, and the stage director, Pablo Maritano.
The ten singers were chosen in auditions held in Bologna, Tbilisi, Madrid and Tenerife last February which were entered by 181 candidates of 33 different nationalities. The singers taking part are María Rita Combattelli (soprano); Beatriz de Sousa (soprano); Klodjan Kaçani (tenor); César Arrieta (tenor); Alberto Bonifazio (baritone); Jacobo Ochoa (baritone); Givi Gigineishvili (bass); Matteo Andrea Mollica (bass); Sofía Esparza (soprano) and Leonora Tess (soprano).
Concepción Rivero admitted that "it's a pleasure to present L'elisir d'amore", that will be performed "on this wonderful stage" and that opens Ópera de Tenerife's new season.  For his part, the artistic director of Auditorio de Tenerife, José Luis Rivero, presented this production of Opera (e)Studio, "the academy specialising in opera singing where we are honoured to have had Giulio Zappa as director from the beginning; singers training at the academy in previous years are now following an international career".
The artistic director explained that "different reasons make this year unique: this is the first time the principal conductor of Sinfónica de Tenerife is musically directing one of our operas, for which we thank Antonio Méndez's generosity; it is the European debut of one of the most renowned stage directors in Latin America, Pablo Maritano; and this project is a coproduction between Ópera de Tenerife, Teatro Comunale di Bolognia and Tbilisi Opera and Ballet State Theatre, chosen among more than 500 European projects in the Creative Europe programme, and the only opera project that was chosen".
In Giulio Zappa's view, "this seventh year is special because of the support of Creative Europe". Opera (e)Studio artistic director stated that "in my over 20-year-long career I've never met such a passionate, committed team as the one in Ópera de Tenerife, who I now regard as family". Regarding the participants, Zappa thanks them for "these two months together in which I've also learnt a lot from them".
Sinfónica de Tenerife's principal conductor, Antonio Méndez, admits that "I'm looking forward to making my debut with Ópera de Tenerife; it's a pleasure to be leading this title by Opera (e)Studio, a very interesting and necessary project in the opera world which this year has brought us two great high-level casts. They are all very different from each other which, in turn, offers a richer result as audiences can value each voice, each character". For his part, Pablo Maritano thanked the invitation from Ópera de Tenerife intendant, Alejandro Abrante, and Jorge Cabrera, head of technical production of Auditorio de Tenerife, and his "tireless" team. "The whole team has surrounded us with their enthusiasm and although this sector is always full of challenges, we're very happy about how we've dealt with them and with the final result".
This Ópera de Tenerife production is a melodramma giocoso by Gaetano Donizetti with the libretto by Felice Romani, based on the text Le philtre by Eugène Scribe for Daniel François Esprit Auber's opera. One of the most praised operas by the composer thanks to unforgettable melodies like 'Una furtiva lagrima' and a lively plot about the love affair between beautiful Adina and naive Nemorino. It was premiered at Teatro della Canobbiana in Milan on 12 May 1832.
Opera (e)Studio is the high specialisation academy for Ópera de Tenerife artists, which has had Giulio Zappa as artistic director since 2012. This project was set up with the aim of providing training in all the opera disciplines for young artists while at the same time meeting the demands of the present work market. The selected artists arrived on the island last September and have been working on different areas ranging from musical and stage performance techniques to style, diction, body language or dramaturgy which are combined with rehearsals done at the professional pace set by a theatre: costume fittings, make-up and rehearsing with the orchestra.
The performances on Thursday, the 24th, Friday, the 25th and Saturday the 26th are taking place at 7:30 pm. The show in at 6:00 pm on Sunday, the 27th. Tickets can be purchased at Auditorio de Tenerife box office from 10:00 am to 7:30 pm Monday to Saturday; via www.auditoriodetenerife.com or calling 902 317 327.